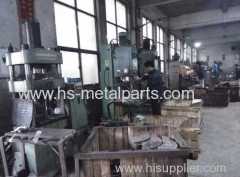 HS Machinery Parts is a factory producing steel castings, iron castings, aluminum castings, brass castings, bronze castings, forgings, stampings, and machined parts with material carbon steel, alloy steel, stainless steel, aluminum alloy, copper alloy such as brass and bronze. Products more than 85% export to USA, Germany, UK, Russia, and other countries, and quality obtained very good reputation from our customers. Electric zinc, hot dip zinc plating, power coating, painting, phosphatization are the most common anti rust surface treatment, others you can specify.

For Aluminum castings we can use die casting, gravity casting, sand casting and permanent steel mould casting processses for options according to customer product performance and requirements.

Automotive parts and Hydraulic components are our strength. If youd like to know more about Hydraulic Fittings and Adapters please visit our factory website: www.hs-metalparts.com. Parker, Manuli, and Eaton exchangeable products are available.

The material used for castings include ferrous metal such as stainless steel, alloy steel, carbon steel, gray cast iron, ductile iron, nodular iron, malleable iron, etc and non-ferrous metal such as brass, aluminum alloy, zinc alloy, etc. The process includes investment casting, low pressure or pressure die casting, sand casting, forging, stamping and machining.

The company owns a dedicated, professional team and rigorously follows ISO9001:2008 quality management standard and complete test equipment like spectrometer, metallurgical microscope, universal mechanical property tester to assure products and services totally meet customer's specifications.